Photos and Stories from our Customers
"Dewey, I received my crate and collar tags today. They are perfect, as expected. The two-sided collar tags, which are the small cat-size, have all the information needed to facilitate a fast return of my dogs should they ever become lost. Ordering from you through your website was as easy and fast as ordering at a dogshow. Thank you for your advice and fast turn around." Amy ( Sumners0307@comcast.net )
---
| | | |
| --- | --- | --- |
| "I received the replacement signs and they are perfect. Photo above. Thanks! I will surely order from you again in the future." | "Got my crate sign today. It's perfect and came really fast! That's for another awesome plaque, it won't be our last." | |
---
"Just wanted to say thank you for such quick production and shipping! I bought signs from you 10 or so years ago which still look brand new, and found your site when looking for current show locations. Thanks again!"
---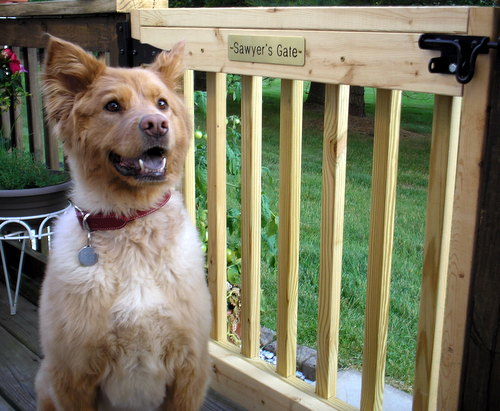 My husband & I built a gate on my daughter's deck so her dog, "Sawyer" could sit outside with them without being tied up. Since it was "Sawyer's Gate" I wanted to attach a sign indicating that. Searching on-lin I was fortunate to come across your site and basically, "took a shot". The sign is perfect and the turn around time was amazing. I will definitely keep your info for futre use and recommend to everyone. Thanks again!
---
---
"I received the replacement signs and they are perfect. Photo above. Thanks! I will surely order from you again in the future."
Amanda from Oyster Bay, New York - 2" x 4", Purple/White Crate Sign with 3 Lines
---
"Just wanted to say thank you for such quick production and shipping! I bought signs from you 10 or so years ago which still look brand new, and found your site when looking for current show locations. Thanks again!" Nicola (ns_sheltie@hotmail.com) on June 21, 2012
---
My husband & I built a gate on my daughter's deck so her dog, "Sawyer" could sit outside with them without being tied up. Since it was "Sawyer's Gate" I wanted to attach a sign indicating that. Searching on-lin I was fortunate to come across your site and basically, "took a shot". The sign is perfect and the turn around time was amazing. I will definitely keep your info for futre use and recommend to everyone. Thanks again! Barbara DeRollo (rbderollo@comcast.net) on June 6, 2012 - 2x8 Brass Crate Sign
---

Large Collar Tag for "KAISER" ordered for shipment to Hogan Custom Leather for mounting

"Just wanted to say thanks for kaisers brass name tag. it looks awesome and it looks really good on that leather collar from Hogans. Thanks again. "

Brian Laflamme (Brian Laflamme) on May 9, 2012

---

Smudge's House

...the kids think it's so cool! And of course Smudge loves his new home...

Patricia Raven (Trish_raven@btinternet.com) on April 24, 2012

---

"Oh my goodness! I received my crate tags today. They are the best I have ever had!Thank you so much for the wonderful job,cannot wait to show them off! Do you ever get down towards Texas?You could do great at some of our all-breed shows.I will be ordering another, as I forgot one of the dogs..old age I suppose!Love em!!!!!"

Charlie Theobalt ( ctheobalt@yahoo.com ) on December 29, 2011