From our Customers
Engraving for You!
Technology is wonderful but...
Recently my granddaughter purchased a new cell phone. She was unable to transfer her stored numbers from the old phone as it was non-functional (lost or dropped or something). A situation developed where she needed to contact a family friend whose number she had stored in the old phone. She attempted to contact people who might know the phone number she needed to no avail. She asked me if I could think of someone else she could call to get the needed number. Fortunately, the friend whose number she needed is also a senior citizen (like me) who had an old fashion phone – the ones with a chord attached. You guessed it. There was also a listing in that book we use to boost up little kids who have graduated from hi-chairs and I had not yet recycled my copy. I instructed her in the use of the PHONE BOOK and she was able to make the call!
Current News
A New Era
The shows at Harrisburg were my last appearance "on the road". I'm now concentrating my efforts on the web site. I'm pleased that many customers I've dealt with at dog shows the past 32 years have followed me to the site. I'm also excited that many new customers have found me via the internet. So I'm not retiring just beginning a NEW ERA. I'm looking forward to the challenge of supplying engraved signs and tags to past customers and finding new ones.
I must say, however, I won't miss some things that came with doing 80+ shows a year. Like the mud and being towed out of a show site, high winds causing tents to go down and shows to be canceled, having the LED screen on the computer run slow because it didn't like 30 degree temperature, changing a tire on my cube van on the Capitol Beltway during rush hour, listening to the PA announcer call (for the 4th time) for a vehicle to be moved "immediately or it will be towed – the tow truck is on the way", watching flood waters rising in the parking lot and seeing the wheel chocks float away as I pull my trailer to higher ground.

I will miss the comradery of my fellow dog show vendors. I expect to continue to share in the excitement of achieving a new title when I get the order for a crate sign and a new puppy with the order for a pet tag.
Photos and Stories from our Customers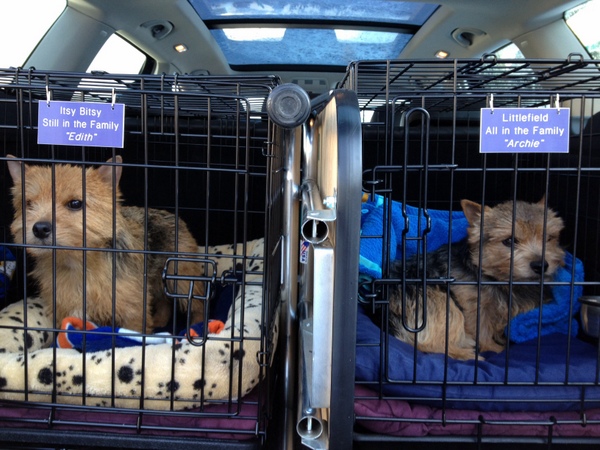 "I received the replacement signs and they are perfect. Photo above. Thanks! I will surely order from you again in the future."
Amanda from Oyster Bay, New York - 2" x 4", Purple/White Crate Sign with 3 Lines
---
"Just wanted to say thank you for such quick production and shipping! I bought signs from you 10 or so years ago which still look brand new, and found your site when looking for current show locations. Thanks again!" Nicola (ns_sheltie@hotmail.com) on June 21, 2012
---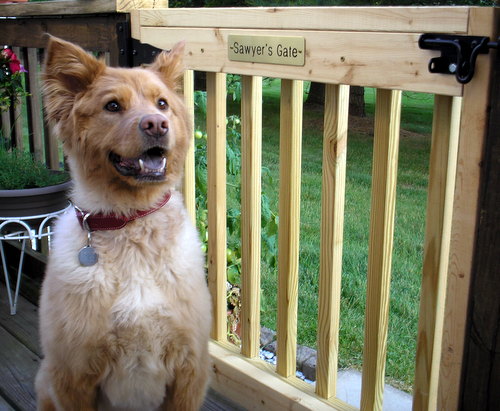 My husband & I built a gate on my daughter's deck so her dog, "Sawyer" could sit outside with them without being tied up. Since it was "Sawyer's Gate" I wanted to attach a sign indicating that. Searching on-lin I was fortunate to come across your site and basically, "took a shot". The sign is perfect and the turn around time was amazing. I will definitely keep your info for futre use and recommend to everyone. Thanks again! Barbara DeRollo (rbderollo@comcast.net) on June 6, 2012 - 2x8 Brass Crate Sign
---

Large Collar Tag for "KAISER" ordered for shipment to Hogan Custom Leather for mounting

"Just wanted to say thanks for kaisers brass name tag. it looks awesome and it looks really good on that leather collar from Hogans. Thanks again. "

Brian Laflamme (Brian Laflamme) on May 9, 2012

---

Smudge's House

...the kids think it's so cool! And of course Smudge loves his new home...

Patricia Raven (Trish_raven@btinternet.com) on April 24, 2012

---

"Oh my goodness! I received my crate tags today. They are the best I have ever had!Thank you so much for the wonderful job,cannot wait to show them off! Do you ever get down towards Texas?You could do great at some of our all-breed shows.I will be ordering another, as I forgot one of the dogs..old age I suppose!Love em!!!!!"

Charlie Theobalt ( ctheobalt@yahoo.com ) on December 29, 2011

Engraving for You!
Add EZU Signs to your Favorites